Pre-Installation Checklist
Be Prepared for Your Flooring Installation with Help from Bloomington Carpet One Floor & Home
Installing Wood Floors: What To Expect

Once you have decided to install or refinish a wood floor, you may wonder what to expect. Knowing what to expect will help ensure a high quality job.


If your floors are being sanded, finished or refinished, be prepared for some noise and disruption. Dust containment systems can minimize debris, but no system is 100% effective. You will need to cover any items that you want to keep dust-free. When the finish is applied, stay off your floor until it has dried. Typical dry times vary depending on the type of finish and humidity levels. Some estimated dry times: oil based finish 6-12 hours, water base 3-5 hours, stains 1-4 hours.


After the finish has dried, you may put furniture back on the floor within 24-48 hours. The floor will take about 21 days to cure and reach full hardness for oil based finish or 7 days for water based finish. During this time you will want to avoid any floor cleaners and placing any large area rugs on the floor. Small rugs by entries and sinks are acceptable. Avoid rugs with rubber backs, which can discolor your floor. This is the perfect time to check the felt pads on the bottom of any furniture. Felt pads may need replacing every 6-12 months if heavily used.


Keep in mind that no two floor boards will be identical. As your floor ages, some color change can occur. This is normal, but can be minimized by limiting exposure to direct sunlight, and periodically moving furniture and rugs. Cracks are normal as well, and will grow and shrink during seasons of high and low humidity. Generally, anything less than the width of a dime is considered normal and will correct itself as the seasons change. Flooring inspectors recommend inspecting the floor from a standing position in normal lighting to identify irregularities.
A Closer Look at Humidity Control
A homeowner who chooses beautiful hardwood flooring is making an investment for years to come. The best way to protect that investment is by keeping humidity and temperature within "normal living conditions," (60-80 degrees and 30-50%). Humidity control is the homeowner's responsibility. Good humidity control will minimize, but not eliminate, the small cracks and gaps nearly every wood floor experiences. If cracks are a concern, LVT flooring moves less and shows fewer gaps.
Regular Maintenance
With today's advances in wood flooring finishes, cleaning your wood floors has never been easier. Here are some steps you can take to minimize maintenance and maintain the beauty of your wood floors.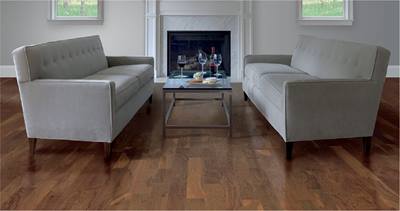 Sweep your floors or use a dust mop daily, but do not use household cleaners as this may cause floors to become slick or dull the finish.
Vacuum your floors regularly, but do not use the beater bar as that could damage your finish.


Clean your floor's with products specifically designed for wood floors and wipe up spills as quickly as possible.


Never damp-mop a wood floor. Water and wood do not mix.


Try to avoid water from planters, pet bowls, outdoor traffic, ect.


Use throw rugs both inside and outside doorways to help prevent grit, dirt and other debris from being tracked onto your wood floor. This will prevent scratching.


Avoid walking on your wood floor with cleats, sport shoes and high heels. A 125 lb woman walking in high heels has an impact of 2,000 pounds per square inch. An exposed nail can exert up to 8,000 pounds per square inch. This kind of impact can dent any floor surface.


When moving heavy furniture, do not slide it on wood flooring.


The use of a small humidifier may be necessary in some rooms like a half bath for example. These rooms may have a micro climate different than the rest of your home. This is not uncommon even with a fully functional whole home humidity control system.


A maintenance coating, or screen and coating is recommended about every three to five years. Maintenance coats will ultimately afford you more time between the more costly sanding and refinish jobs.

Site Conditions for A Successful Installation
The building is enclosed and weather tight.


All wet trades (drywall, tile, paint, plaster) have completed their work.


Heat/Air conditioning systems operating 3-5 days prior to delivery of wood.


Sanding, staining, and the initial polyurethane seal coat are usually applied during one trip. After this is done, and before the final coats are applied, the floor is the most vulnerable to costly damage. No work should be done in the home at this point without protective papers or clothe on the floor.


We may not be able to prevent the following from settling on the floors during the finishing process: pet hairs, loose plaster and paint, contaminates that may have settled on appliances or counters, or debris circulated through the home's ventilation systems.


We are not responsible for any problems that may arise due to pre-existing structural conditions or deficiencies. Including but not limited to: asbestos, mold, plumbing, wiring, or any building code violations that may exist.
At Bloomington Carpet One Floor & Home, we are proud to offer flooring to Minnetonka, Plymouth, and Eden Prairie to broaden their range.


Click here to contact one of the flooring and installation experts at Bloomington Carpet One Floor & Home →